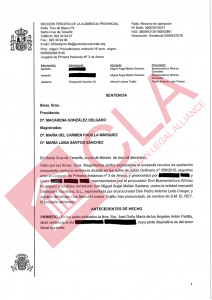 It is with great pride the Canarian Legal Alliance brings you its latest Silverpoint High Court victory.
After achieving a First Instance victory Silverpoint had appealed our clients successful only for the High Court of Tenerife to dismiss this and reaffirm the nullity of their timeshare contract. The magistrate stated that the lack of a tangible object found in the contract goes against the Spanish Timeshare Law of 42/98 and therefore is null and void.
Our clients will be refunded over £25,000 plus legal interest.
Congratulations to our clients and to the whole legal team involved throughout this process.
IF YOU OWN A FLOATING WEEK OR POINTS CONTACT US NOW AND SEE IF YOU ARE ELIGEBLE TO CLAIM.