Client Nationality: British
Defendent Resort: Resort Properties
Resolution Location: Tenerife, Spain
Judicial Level: Court of First Instance
Case Type: Civil
Timeshare Structure: Deposit, Perpetuity contract
Resolution Period: 2 years
Amount Awarded: 15,461 GBP
Client Story
In 2005 our client was recovering from chemotherapy, feeling in need of a holiday after these events, she took advantage of a special offer of a holiday in Tenerife for £29.50 per person. This was at a timeshare resort, part of the terms and conditions were that she attend a presentation.
Her daughter agreed to accompany her on this holiday, believing it would help her recuperation.
Once at the resort, the sales reps visited her at the apartment, she eventually agreed to attend the presentation while her daughter went swimming.
At the sales area of Beverley Hills, the sales rep Simon, (surname not known), spent several hours trying to convince her to purchase, (she had no intention of doing so). As Simon´s sales pitch was not working the sales manager, Barry (again no surname), appeared.
At first our client did not feel as though she was under pressure to purchase, as Simon was pleasant enough, but Barry was very pushy to the point of being aggressive. She felt very tired and when her daughter returned from the pool she was amazed that the presentation was still going on. She took an instant dislike to Barry.
Eventually she succumbed to the pressure and agreed to buy 4 weeks.
So for her the nightmare is over, she now has her money back and is free of the burden and heartache.
Action Taken by CLA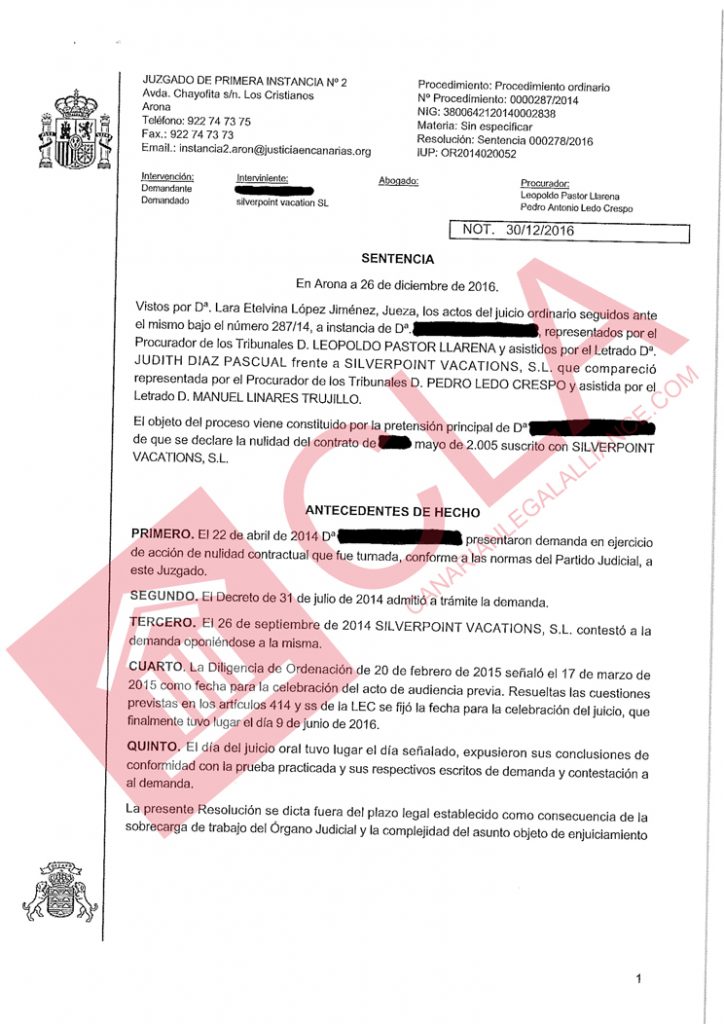 Our client contacted Canarian Legal Alliance in 2013 enquiring if she had a claim against Resort Properties. After studying her documents it transpired that she did have a valid claim.
All her paperwork was then translated into Spanish and a lawyer was assigned to her case. This was then lodged with the court in Tenerife and a date set for trial. Proceedings then started in 2014.
The case began in the summer of 2014 and the judgement and sentence was announced in December of 2016.
Resort Infraction & Sentence Summary
In the ruling the judge considered that Silverpoint was responsible for contract made by Resort Properties, regardless of their denials.
The judge also considered that theclient was sold a holiday product (timeshare) and not an "investment", therefore the Law 41/98 was applicable.
The main infraction was the length of the contract, being over 50 years or what is known as perpetuity.
Other infringements that were also considered and ruled upon were: the taking of deposits within the 14 day cooling off period; the client was not informed of their cancellation rights; not being informed of the rise in maintenance costs in the past 5 years.
The sentence from the judge covered 12 pages and the clients contract was declared null and void with all payments being returned.
If you think you may have a claim, feel free to contact us on  +34 928 18 50 28 or click here to get in touch with us!