Timeshare Litigation Case Study
Client Nationality: Poland
Defendant Resort: Anfi Resorts
Resolution Location: Gran Canaria, Canary Islands, Spain
Judicial Level: High Court
Case Type: Civil
Timeshare Structure: Timeshare Week
Resolution Period: 3 Years (2014)
Amount Awarded: 19,784€
Client Story:
Whilst on holiday in December 2009 our clients were enjoying a walk when they were approached by a woman offering a free day in a five-star hotel equipped with swimming pools and Jacuzzis. Our clients were offered free transport, the condition being they would have to show their credit card upon entering the hotel as well attend a short presentation. After hours walking around the resort our clients were sat in a hot small room, where they were explained the benefits of purchasing a timeshare week. Our clients were moved from their hotel into the resort, which they assumed was free. The next day without explaining the contract itself or frankly what they were purchasing, our clients felt pressured into paying a deposit there and then.
When our clients returned the following year, they were met with a great shock. The room that they had believed to have purchased was not given to them, instead they received an old room. Our clients have not used their weeks for the past three years as they believe that for the price of the maintenance fees, they can book a nice hotel without all the stress included. All in all, our clients were disappointed and felt that Anfi was only their "friends" when they wanted some sort of payment.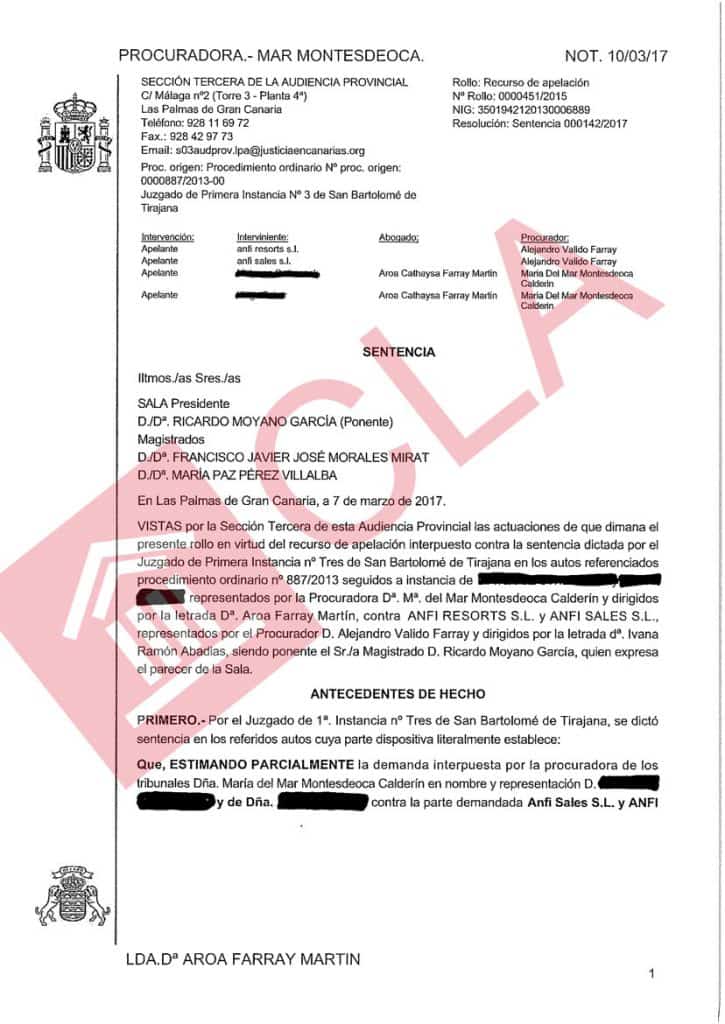 Action Taken by CLA:
Unhappy with the treatment received by Anfi our clients investigated ways out of the contract, and came upon Canarian Legal Alliance. After a series of correspondence our clients decided to initiate a claim. Soon their case had been accepted at court, going on to receive a trial date not much after. Much to the delight of our clients the in early 2016 the First Instance Court ruled declared their contracts null and void and ordered the return of 18,964€.
Anfi proceeded to appeal this decision to the High Court of Las Palmas, as they did not agree with the criteria used by the judge in dictating the sentence. Nevertheless, in March 2017 the High Court of Las Palmas confirmed the lower courts sentence, and brought what can only be described as relief to our clients.
Resort Infraction & Sentence Summary
Both the High Court as well as the First Instance court used the earlier precedent set by the Supreme Court. Just like in previous cases our clients contract was valid for an unlimited period. The Spanish timeshare law of (42/98) is clear on matters such as these, stating a contract must not exceed a 50-year period. Not only does this demonstrate the impact of the highest-ranking court in Spain on the lower courts but also the High Courts.