Today, we are happy to share a lovely letter written by a very happy family Lange, who can now boast that they are free of all timeshare obligations and have had their full investment refunded to them.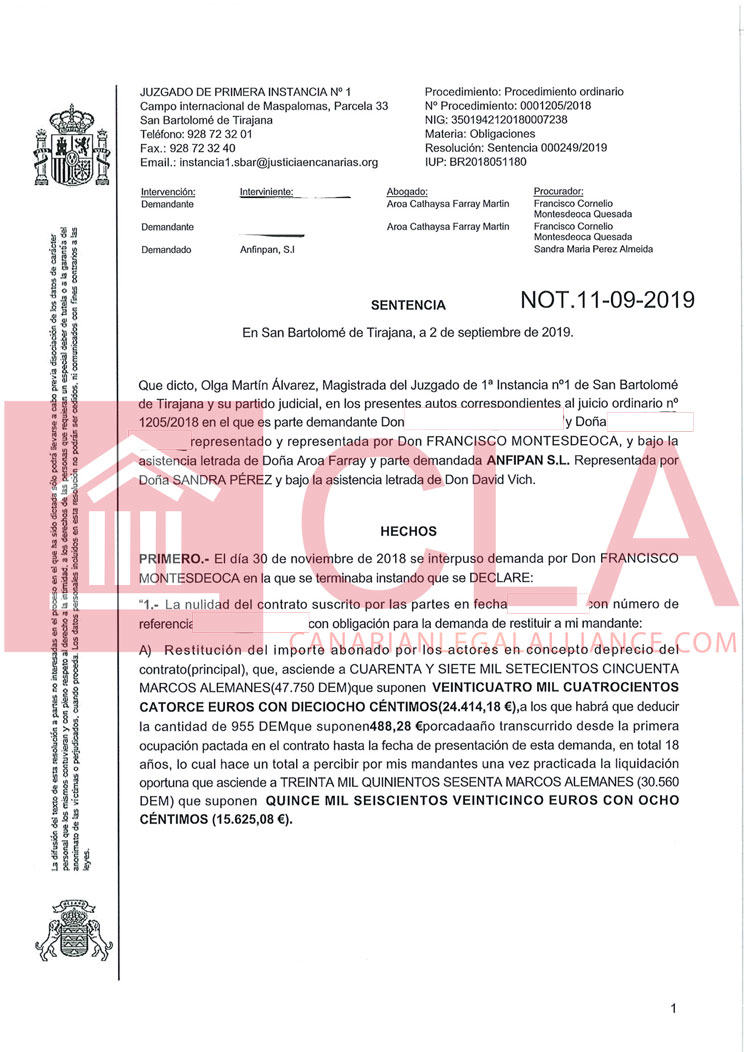 "Great things come to those who have patience!
In the year 2001 my wife and I enjoyed our first holiday in Gran Canaria on a one-week vacation in the former Hotel Airtours Beach Club (now called Blue Bay Beach Club). The hotel was very well equipped at the time and we found it to be very pleasant. However, what we did not know was that sales events for holiday home rights (TIMESHARE) were taking place.. We were also approached by the manager at that time asking us if we would be interested in buying one or several weeks. Since we liked it, we decided to take a two-week offer. We were immediately required to pay a deposit (by credit card) and transfer the rest within 14 days. In addition, the annual maintenance fees also had to be paid. We complied and paid everything! (Annual maintenance fees increased by about 5% almost every year).
There were promises (future plans e.g. sand-beach at the hotel), which were advertised by the hotel management at the time we signed the contract, which to this day have still not been implemented. On the contrary, the hotel was completely neglected and the 5 star hotel was downgraded to 4 stars. In our opinion it now only deserves 2 or 3 stars.
About 3 years ago we got in contact with the employees of the law firm Canarian Legal Alliance. We were informed our contract had legal infringements that made it null and void. Such infringements included that of the immediate credit card deposit that had to be made after signing the contract, with the final payment by bank transfer made 14 days later as well as the perpetuity clause it contained. Since we were affected by this, we decided during our holidays in 2017 to make use of our rights and to be represented by "CLA" in the legal dispute that ensued. Today, we are extremely happy about the decision we made with "CLA". Our lawsuit was won with the support of the kind and always accessible employee Mrs. Jasmin Erhard and her team. The simple fact that we could free ourselves from the contract with Blue-Bay-Beach-Club is hugely gratifying, added to a satisfying refund that made us extremely happy!
Our heartfelt thank you goes to the whole team at "CLA" ( Canarian Legal Alliance Gran Canaria ) for their commitment and for this victory"
We would like to take this time to thank family Lange for their kind words and wish them all the best in their now timeshare free life.