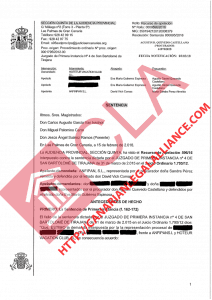 Canarian Legal Alliance is proud to share with you its latest  High Court victory against Airtours.
The judges of the High Court of Las Palmas have yet again confirmed their stance on timeshare perpetuity contracts declaring our clients contract null and void. In their ruling the magistrates stated that all timeshare contracts must be valid for no longer than 50 years and must de detailed specifically within the contract itself.
Our clients will be getting back over 12,424€ plus legal interest.
Congratulations to our clients and to the whole legal team involved throughout the process.
IF YOU OWN A PERPETUITY CONTRACT CONTACT US NOW FOR A FREE CONSULTATION AND REVIEW YOUR LEGAL OPTIONS