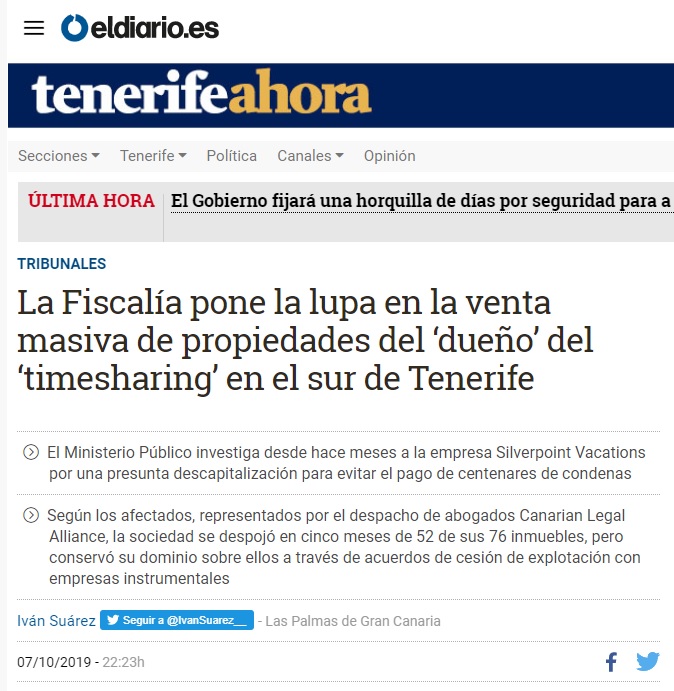 On 7 October the Spanish Daily Newspaper El Diario published another report on Silverpoint and the Prosecutors Office investigation into possible criminal charges.
The investigation as reported by El Diario focuses on the selling of properties by Silverpoint and the decapitalization in order to avoid the many court awarded claims to our clients. Many of these clients have purchased into the "Company Participation Scheme", which is where the properties are registered as SL or Limited companies. It is this sell-off which has sparked the investigation which El Diario is now reporting on.
As part of this investigation, a representative of Silverpoint will need to respond to the Judge at the Court of Arona on the accusation of the Crime of Obstruction of Justice and Frustration of Execution of Sentences.
In another court, CLA has achieved another embargoes on a further three properties on behalf of one of our clients who has been awarded over 62,000€. This proves that the processes CLA have in place to secure payments for our clients is working and we hope that this client has the funds in their account soon.
If you have purchased any Silverpoint product and would like to receive further information as to your legal rights, please get in touch with us through the contact details on our website.
Links to the latest El Diario report
El Diario article 7/10/19
https://www.eldiario.es/canariasahora/tenerifeahora/tribunales/Fiscalia-venta-propiedades-timesharing-sur-Tenerife-turismo_0_950155565.html