Timeshare Litigation Case Study
Client Nationality: United Kingdom
Defendant Resort: Silverpoint (Resort Properties)
Resolution Location: Tenerife Canary Islands, Spain
Judicial Level: High Court Tenerife
Case Type: Civil
Timeshare Structure: Timeshare Week
Resolution Period: 4 Years (2014)
Amount Awarded: €74,584
Client Story:
Whilst enjoying their holiday our clients were approached by Silverpoint representatives on the street and were informed that they had won a prize. All our clients would simply have to do would be attend a short presentation at a resort. They were placed in a taxi and sent to the resort free of charge.
At the resort they were met by representatives who gave them a long tour and eventually persuaded them that purchasing Silverpoint was a great investment. Hesitant and pressured our clients decided to go ahead. Our clients left a deposit there on the day and paid of the balance when they arrived back home. Our clients left Tenerife under the impression that they had made a smart investment and that they would be making a profit in as fast as six months.
Action Taken by CLA:
Disheartened and frustrated will Silverpoint, our clients concluded that what they had been promised were all lies and that they were stuck with an investment which was causing them great losses. They were left with no choice and approached Canarian Legal Alliance with the intent of recuperating their monies which they felt they had been cheated out of.
In late 2014 our clients case was presented at court, with it being accepted as fast as three weeks after. The judge then set a pre-trial date in mid-2015, with a trial date set for later that year. Unfortunately, this trial had to be suspended due to personal reasons of our clients, leading the judge to set a trial date in early 2016.
As of 2016 it was with great pride that clients could boast of achieving a victory in the First Instance Court, recuperating all their monies spent with Silverpoint. To prevent and prolong this ruling, Silverpoint appealed the decision to the High Court, only for this to be rejected by them in early 2018.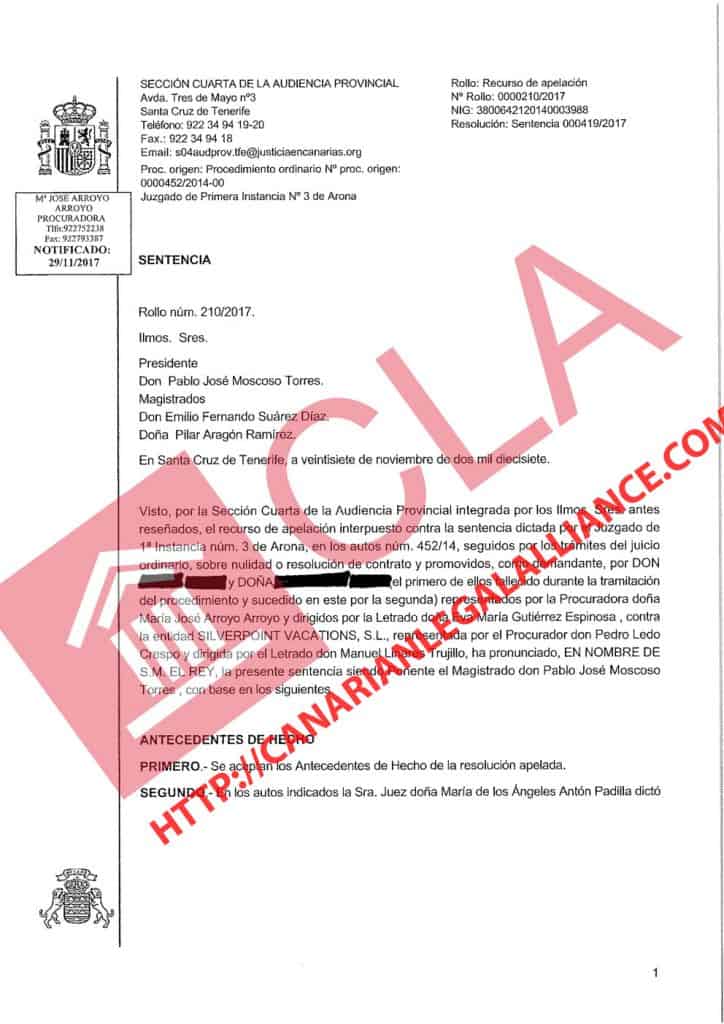 Resort Infraction & Sentence Summary
Using the rulings handed down by the Supreme Court the judge of the First Instance as well as those of High Court in Tenerife based their rulings on the Spanish Timeshare Law of 42/98 and declared our clients contract null and void on the basis that is was part of the "floating system". Under the law a timeshare contract must be as tangible as possible, i.e containing a specific week, location and date.
Yet again this is another example of the lower courts following the precedent set by the Supreme Court. The law is clear, and the courts have made it clear that no resort is exempt from this. Timeshare companies must adapt their product or suffer the consequences.