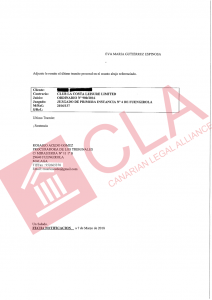 In the same way that Canarian Legal Alliance likes to end its week with a bang, it likes to START it to.
We are pleased to announce our latest Club La Costa victory in which our English clients contract was declared null and void. The basis of this was that of it not having an end date, something declared illegal under the Spanish Timeshare Law of 42/98.
Not only was our clients contract declared null and void but the magistrate from the Fuengirola First Instance Court N4 has ordered Club La Costa refund a total of £19,442 plus their full legal fees and legal interest.
Congratulations to our clients and to the whole legal team involved throughout the process.
IF YOU WERE SOLD A CONTRACT IN PERPETUITY CONTACT US NOW FOR A FREE EVALUATION OF YOUR TIMESHARE.