As it has been custom Canarian Legal Alliance likes to end its week with a bang, and this one will be no different.
Yet again the highest-ranking court in Spain has ruled in favour of our clients in not one but three sentences. In each of these sentences Supreme Court declared Silverpoint timeshare contracts null and void on the basis that they all lacked a specific object as well as exceeded the allowed length of 50 years.
The Supreme Court also reaffirmed its stance on deposit taking, stating that regardless of whether a third party was used, no monies should be taken of a consumer within the first 10 days of the contracts lifespan. As a penalty of this they ruled Silverpoint refund all monies paid within this period in DOUBLE!
Our clients have been awarded over £73,684, with all of them receiving back their legal fees and legal interest.
A big congratulation is in order for all these clients who have achieved these outstanding victories. This is of course without forgetting the enormous work which the whole of Canarian Legal Alliance legal team puts in on a daily basis.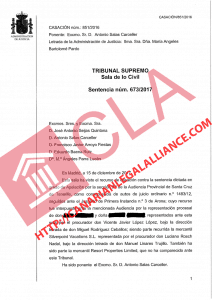 IF YOU OWN FLOATING WEEKS OR A PERPETUITY CONTRACT , SEE IF YOU CAN CLAIM WITH A FREE CONSULTATION!