It is with great pride that Canarian Legal Alliance can announce its latest Supreme Court success. In this case our success is not in terms of a sentence but rather in a rejection of Club La Costa appeal.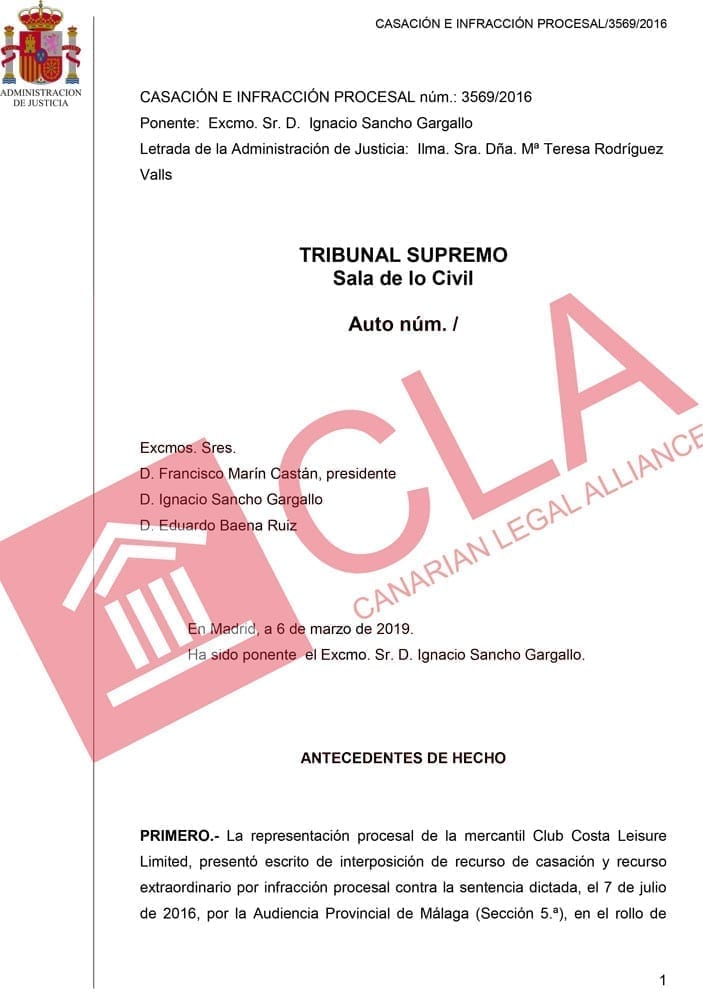 After achieving a victorious outcome in the High Court of Fuengirola our clients were informed that Club La Costa had presented an appeal to the Supreme Court as they did not agree with both the sentence as well as the Supreme Court itself.
Today we can announce that the Supreme Court has rejected Club La Costa appeal, refusing to even study their case. In their rejection the Supreme Court issued the following statement:
Page 4 Paragraph 3
"El interés casacional alegado es inexistente porque la sentencia recurrida resuelve de acuerdo con la doctrina de la sala SSTS n.o 537/2016 de 14 de septiembre, n.o 606/2016 de 6 de octubre, n.o 630/2016 y 632/2016 de 25 de octubre de 2016, y no se justifica ninguna circunstancia que pudiera determinar un cambio jurisprudencial en atención a la reciente doctrina fijada por la sala sobre el problema jurídico planteado".
"A study of said case is not of interest to the court as the appealed sentence was issued in accordance to the doctrines set by the Supreme Court (SSTS) on the 14th of September n606/2016, 6th of October n630/2016 and on the 25th of October n632/2016, as well as its failure to include any justified circumstance to change the precedent set by this court itself"
This ruling issued by the Supreme Court in Madrid reaffirms its stance and disavows all those Timeshare Resorts who believe the precedent set is incorrect. The Spanish Timeshare Law of 42/98 is there to protect consumers and the courts are clear, any infringements of said laws will not be tolerated.
IF YOU WANT OUT OF YOUR TIMESHARE CONTRACT CONTACT US NOW AS THE LAW AND THE SUPREME COURT ARE ON YOUR SIDE!