Canarian Legal Alliance has launched a criminal report against Silverpoint in 2019 for supposed hiding/uplifting of funds and assets and obstructing payments (frustration of payments)  to our clients in the sentence enforcement procedures.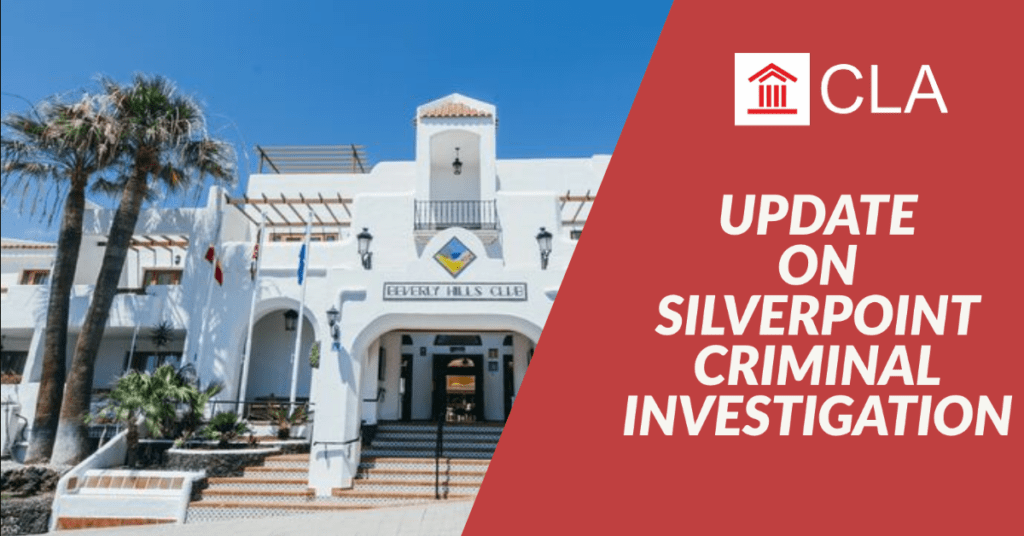 The state attorney together with a special police unit focused on investigating organized crime has been carrying out investigations in a pre-judicial phase, and as have found indications of supposed crime, have formulated his official plaint to the courthouse.
For this reason, now the judge from Criminal Court n 1 Arona has now initiated the investigations corresponding to them, now within a court procedure, where the investigated parties are SILVERPOINT and EXCEL HOTELS AND RESORTS. Our law firm has been claiming that the criminal case has to include more companies from the Limora group, whose existence was just designed to avoid Silverpoint´s responsibility. We aim to include even more companies who are domiciled here in Spain. 
In this preliminary diligencies the judge is requesting varios information and documentation from the parties and from the court houses as well, where these companies had claims against them. We assume that this investigation will reveal many other criminal offenses, and will be able to uplift the veil of a well orchestrated web of companies acting worldwide.
All this ties up with our latest update, in which we informed our clients that the court-appointed administrator of Silverpoint has requested the mercantile court to cancel some of the transactions between the two investigated companies, as he observed unjustified movement of funds. 
We are confident that the two separate procedures will actually strengthen each other, and prove that Silverpoint has simulated its bankruptcy, and diverted the funds to other participants of the group. We are aiming that all the responsibles who have designed this farce will be held accountable.