As Canarian Legal Alliance have informed our clients earlier, one of the most important actions carried out by the court-appointed administrator was the request for the reintegration action against Excell Resorts & Hotels, the current operator of the Silverpoint complexes, while supposedly also a member of the whole Silverpoint network.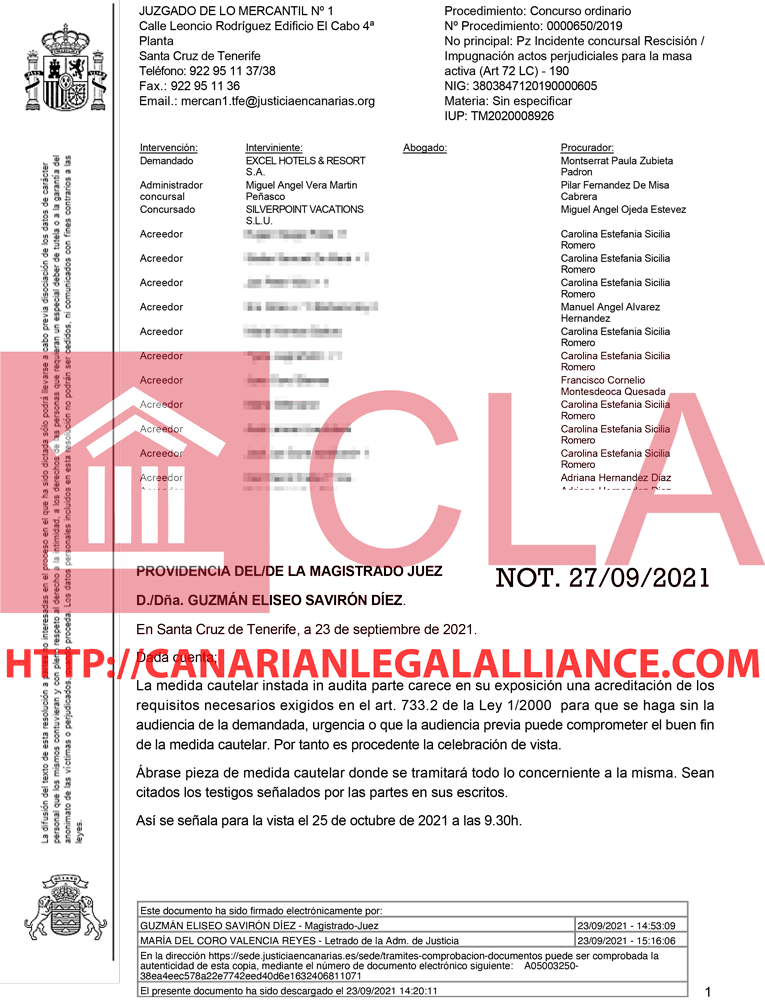 That action intends to return to Silverpoint further equities– timeshare weeks which were sold to Excel (now owned by Onagroup) at a price much lower than recognized in their own accounting books, as well as an amount that was compensated by a  debt recognition process among these two companies of very doubtful origin and nature, for an amount of almost eight million euros! The suspicions have been raised among professionals who claim it was just a farse to empty Silverpoint´s bank accounts and assets. For more information please read our earlier post: https://canarianlegalalliance.com/update-on-silverpoint-liquidation/
The aim of this lawsuit is to acknowledge that Excel actually owes money to Silverpoint, and with the return of the weeks and this money, there would be a rise in the assets of the company for the benefit of all creditors.
In this lawsuit, a precautionary, preventive measure was requested, so that this money, almost 8 million, would be blocked in Excel´s accounts, and thus avoid that money continuing to be diverted to other companies.
To resolve the precautionary measure, a hearing is scheduled for October 25, while the main claim will be discussed on November 29 this year. Our lawyers will naturally be present and will be representing the interest of all creditors.
We will keep you posted.
In the meantime thank you for your trust and patience.